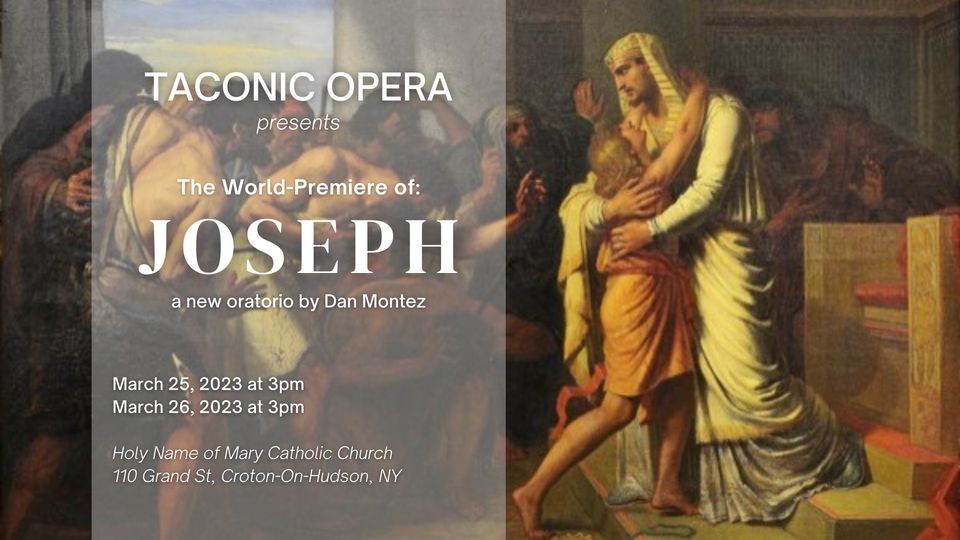 World Premiere of New Oratorio, 'JOSEPH' Presented by Taconic Opera
Join us for the world premiere of Dan Montez's eighth oratorio, 'Joseph'. Presented by Taconic Opera featuring professional soloists, the Taconic Opera chorus, and a full orchestra under the baton of Montez himself.
For the first time in nearly three-hundred years, the sacred narrative of Joseph has been set to an oratorio. Listeners have described Montez's music as "breathtaking," leaving them "in awe," and with "sweeping harmonic and melodic gestures." Through impressionistic styles, quartal harmonies, and textures, Montez's 'Joseph' tells the story of the well-known scriptural figure, the beloved son of Jacob who was sold by his brothers to Egypt. The oratorio follows Joseph as he prevails and saves his family from desolation.
Performance Details:
Saturday, March 25th, 2023 @ 3pm
Sunday, March 26th, 2023 @ 3pm
Holy Name of Mary Catholic Church
110 Grand St., Croton-On-Hudson, NY
Advance sale price $25, or $30 at the door. Discounts are available for seniors and students.
If you wish to purchase a ticket over the phone or need assistance, please call Taconic Opera's toll-free box office number: 1-(855) 88-OPERA or (855) 886-7372